July 27, 2020 Update. The City of Concord was granted an injunction in court in a case with a resident who is claiming ownership of a section of the railroad grade near Carter Hill Rd.  No Trespassing signs were ordered removed pending the full trial.  Trail users should be able to stay on the railroad grade all the way from Carter Hill Rd to Fisherville Rd.
The Barn at Bull Meadow continues to develop their site in anticipation of opening for weddings later this summer.  Their access drive is now about two feet above the railroad grade.  Next to their access drive is a low spot that is frequently wet.  Please know improving our trail approaches to the drive from both sides is a top priority for us as this will resolve both issues.
We filled a hole in the trail by the beaver deceiver last week.  We mowed the parking lot and the edge of the trail by Fisherville Rd.
June 9, 2020 Update.  The trail is open for use but we have more to do.
The parking area at 25 Fisherville Rd is open.  You will find a bike fixstation there where you can pump up tires and make other basic bike adjustments.  Thanks to Central NH Bicycle Coalition, Northeast Delta Dental and the Granite State Wheelers Bicycle Club for their support of the fixstation.  We also have a kiosk with trail information. Constructed with help and support from Grappone Automotive Group.
The half mile of trail on the Deoss Farm was built by Hopkinton Forestry and Land Clearing and the fencing was done by Bastoni's Fence Solutions.  More than 40 volunteers contributed over 400 hours of their time clearing and chipping brush, removing old fence, clearing blocked culverts and more.
A challenge grant from the You Have Our Trust Fund of the NH Charitable Foundation provided a major gift for this portion of the project.  Their support was matched by many individuals and organizations.  A permanent record supporters will be added to the kiosk.
This leaves us with 2 miles of trail still to improve.  Please make a donation if you are able.  The existing surface is fine for hiking and biking.  It is a natural surface so take care. As you head west today over the Barn at Bull Meadow property you will encounter a large puddle just past their driveway.  This is our top priority to fix.  You can walk by on the edge.  The trail serves you well til about a 1/4 mile from Carter Hill Rd.  At this point you may encounter a no trespassing sign.  A resident who owns land on both sides of the grade is contesting the citys ownership of the grade.  While this is settled you may want to exit the trail using a short segment of snowmobile trail over city land that brings you out to Bog Rd by the Camp Spaulding YMCA Camp entrance.
The images below are from the groundbreaking ceremony held on August 2nd, 2019.  Senator Jeanne Shaheen who spearheads the Recreational Trails Program in the US Senate joined us.  Thanks also to State Senator Dan Feltes, Alexis Rudko from the Bureau of Trails, Commissioner Victoria Sheehan from NHDOT, and a many Concord City Councilors and members of the City Planning Department.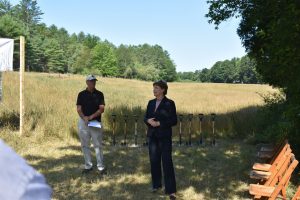 Our first Concord Project!  2.5 miles of beautiful scenery. No road crossings, but access points at both ends and in the middle.
Add your support to this project to help us reach our goal.  This project has received financial support from the New England Grassroots Environmental Fund, from Central New Hampshire Bicycle Coalition, from The NH Bureau of Trails through the Recreational Trails Progam, from Goodales Bike Shops, Runners Alley and Bangor Savings Bank.  But without your help we wont be able to begin to create this trail in the near future.