Updates as of October 7 2023:
Phase 1 shown in green below opened in spring of 2020 just as COVID shut down social interaction.  Many people took advantage of the open space provided by this new rail trail segment which includes a parking area at 25 Fisherville Rd and  a stonedust trail surface across the open fields. 
Phase 2  shown in yellow below extended the trail surfacing work in 2021 to the Barn at Bull Meadow driveway. 
Phase 3 work, shown in red below, started In December of 2021 with the installation of subsurface material. We started to complete the surfacing work in the summer of 2022 only to discover the stone dust that was being provided was out of spec. Work was halted, the problem was identified and corrected,  but the combination of contractor & equipment availability and the weather prevented us from getting that work done before winter.  That work was completed the second week of June 2023 giving us 1.25 miles of completed trail with 1.25 miles remaining to reach Carter Hill Rd.
Phase 4 is shown in orange below.  We plan to build this section in 2023. We had an additional permit requirement issue raised by the City in early October that we are working with them to resolve. We are still trying to get the trail portion of this project done this year. Establishing a parking facility at Carter Hill Rd will take more time. Funding for this phase is provided by a combination of private donations and support from NH Community Development Finance Authority. NH-CDFA granted us $200,000 in tax credits which NH businesses purchased. Please thank Grappone Automotive Group, Sulloway & Hollis P.L.L.C., Sugar River Bank, C&S Wholesale Grocers, NGM Insurance, RAH pc, Cold Springs RV, Irish Electric Corp, Cleveland Waters & Bass, Grappone Management Co, Merrimack County Savings Bank and HEB Engineers Inc. The trail in its current condition may be used for walking and biking. Expect a natural surface until we get the work done.
The Barn at Bull Meadow is open for weddings and other events.  Please be respectful of this private business and stay on the trail as you go by their venue.  They ask you do not use their private drive for trail access.  And be very cautious crossing their driveway, it can be quite busy during events.
You will find a Dero bike Fixit station at the Fisherville Rd parking area where you can pump up tires and make other basic bike adjustments.  Thanks to Central NH Bicycle Coalition, Northeast Delta Dental and the Granite State Wheelers Bicycle Club for their support of the Fixit station.  We also have a kiosk with trail information. Constructed with help and support from Grappone Automotive Group.
The half mile of trail on the Deoss Farm was built by Hopkinton Forestry and Land Clearing and the fencing was done by Bastoni's Fence Solutions.  More than 40 volunteers contributed over 400 hours of their time clearing and chipping brush, removing old fence, clearing blocked culverts and more.
A challenge grant from the You Have Our Trust Fund of the NH Charitable Foundation provided a major gift for this portion of the project.  Their support was matched by many individuals and organizations.  A permanent record supporters will be added to the kiosk.
The images below are from the groundbreaking ceremony held on August 2nd, 2019.  Senator Jeanne Shaheen who spearheads the Recreational Trails Program in the US Senate joined us.  Thanks also to State Senator Dan Feltes, Alexis Rudko from the Bureau of Trails, Commissioner Victoria Sheehan from NHDOT, and a many Concord City Councilors and members of the City Planning Department.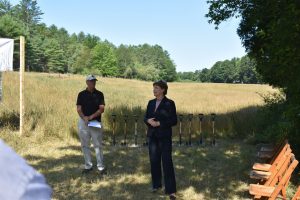 Our first Concord Project!  2.5 miles of beautiful scenery. No road crossings, but access points at both ends and in the middle.
Add your support to this project to help us reach our goal.  Phase 1 of this project received financial support from the New England Grassroots Environmental Fund, from Central New Hampshire Bicycle Coalition, from The NH Bureau of Trails through the Recreational Trails Progam, from Goodales Bike Shops, Runners Alley and Bangor Savings Bank.  But without your help we wont be able to begin to create this trail in the near future.